This Zucchini, Olive and Sun-dried Tomato Bread is the perfect dish to bring to a picnic or party. Easy to make, summery, and flavorful, enjoy it with a salad or cut it into cubes for a delicious appetizer !
Very often, I spend hours looking for ideas on what to bring to a picnic or a gathering. It's usually not the easiest to come up with. You want a recipe that is simple, easy to bring in a tupperware, and can be enjoyed cold. You also have to consider who is going to be at the gathering. What kind of food do they like ? Are they used to eating meat and animal products only ?  I know that my friends and family are used to my vegan food experiments, but even so, I also try to make dishes that are a somewhat similar to what they are used to.
Before going vegan, I usually liked to make a savory loaf/bread for parties and picnics. This was definitely not the first dish I attempted to "veganize", because truthfully, it looked a bit scary and difficult to me. I had no idea how to make a loaf that had the same kind of texture as a non-vegan, dense but also quite fluffy at the same time. But then I stumbled upon a recipe by Tasting Good Naturally (recipe in French) which really inspired me. I loved it and came up with my own version: this Zucchini, Olive and Sun-dried tomato Bread.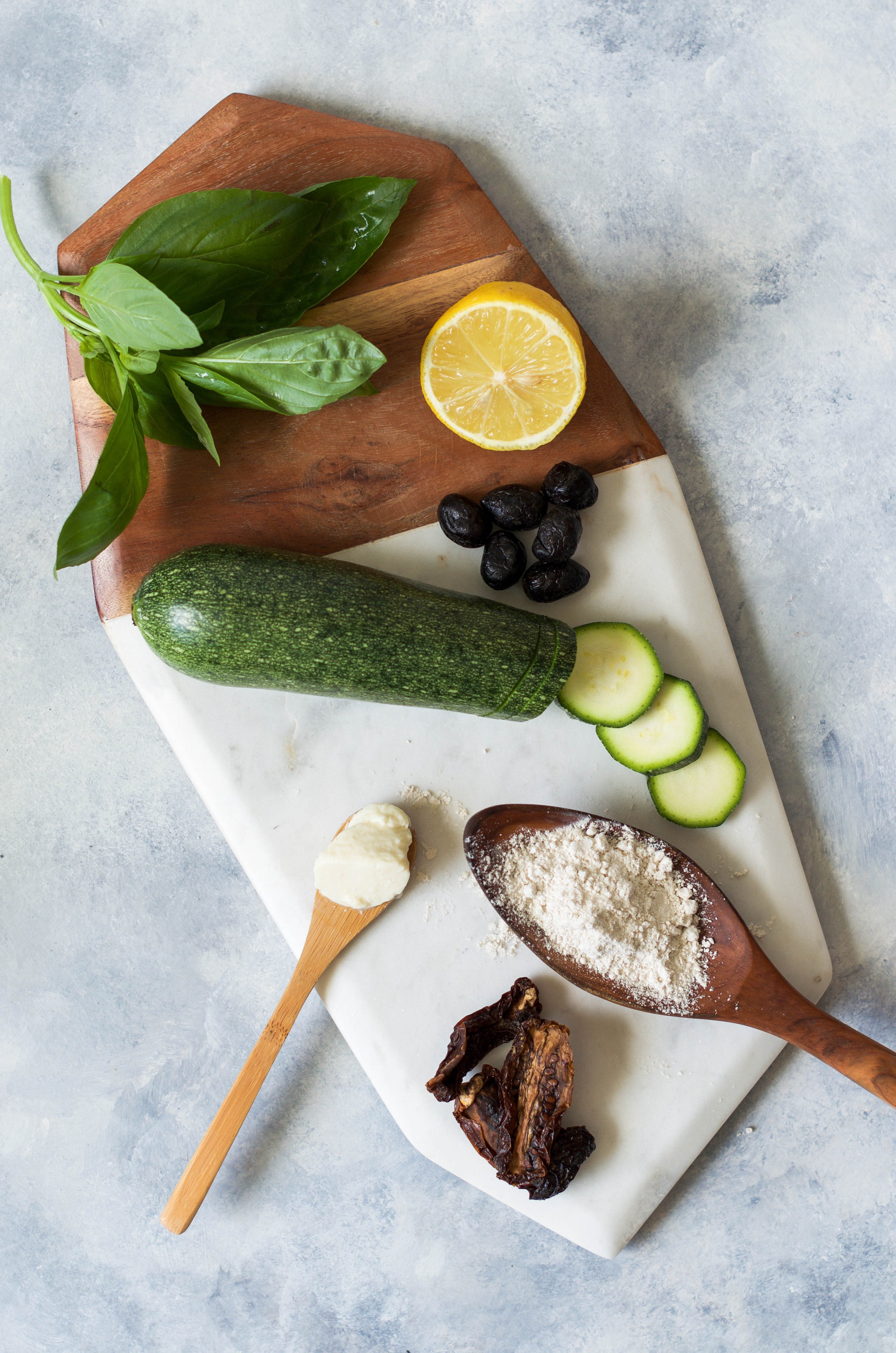 This savory bread is everything I was hoping for and checks all my requirements ! Easy to make, healthy, flavorful, and approved by non-vegans. It tastes like summer thanks to the zucchinis and sun-dried tomatoes. You might ask: isn't it a bit late to post summer recipes ? Well, I am indeed a bit late to post this. BUT, zucchinis are still available at farmers' markets at the moment, and it's not fall yet (can you tell I am not ready for summer to end ?). So take advantage of this beautiful produce, and I hope you enjoy this bread !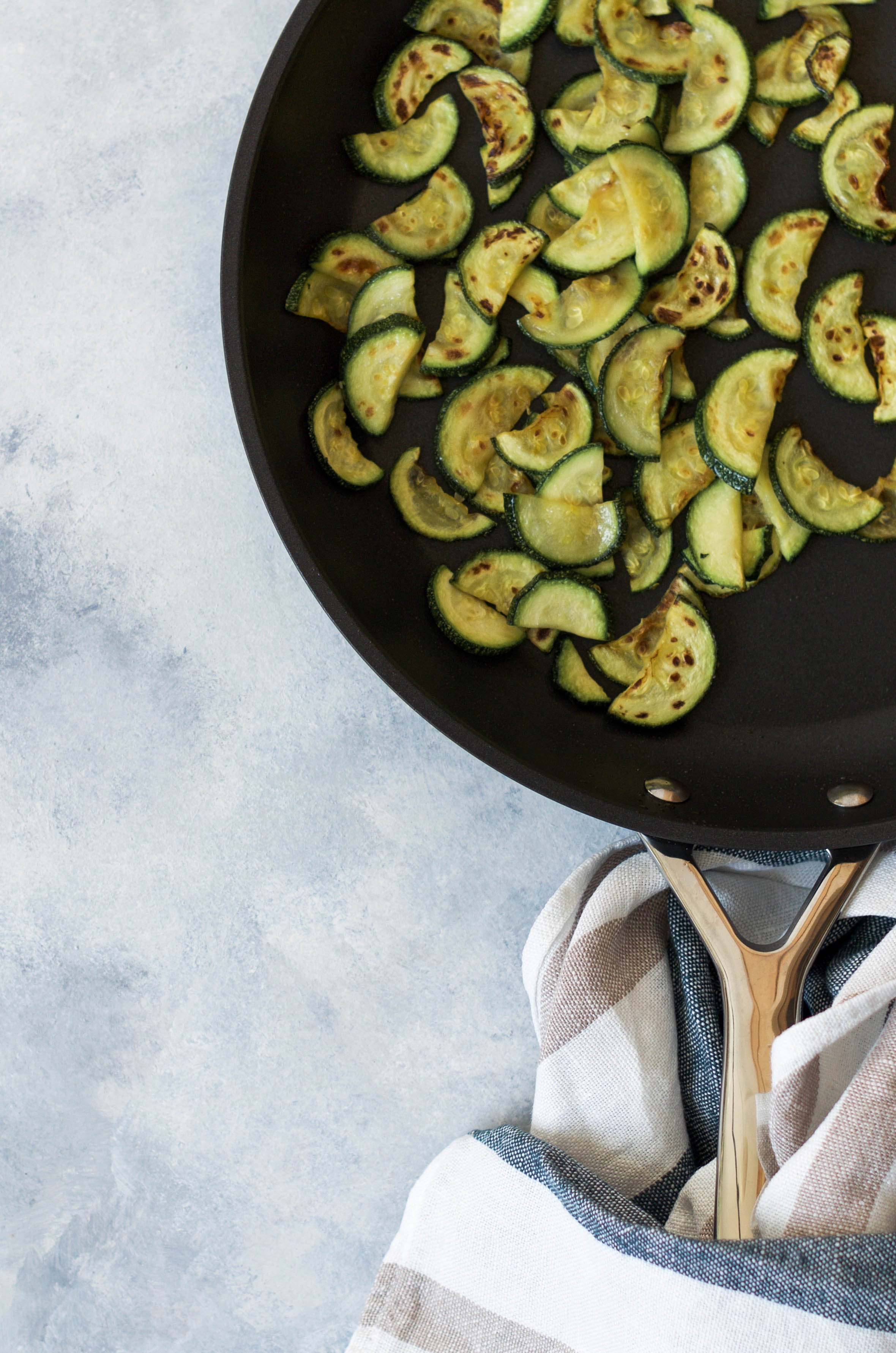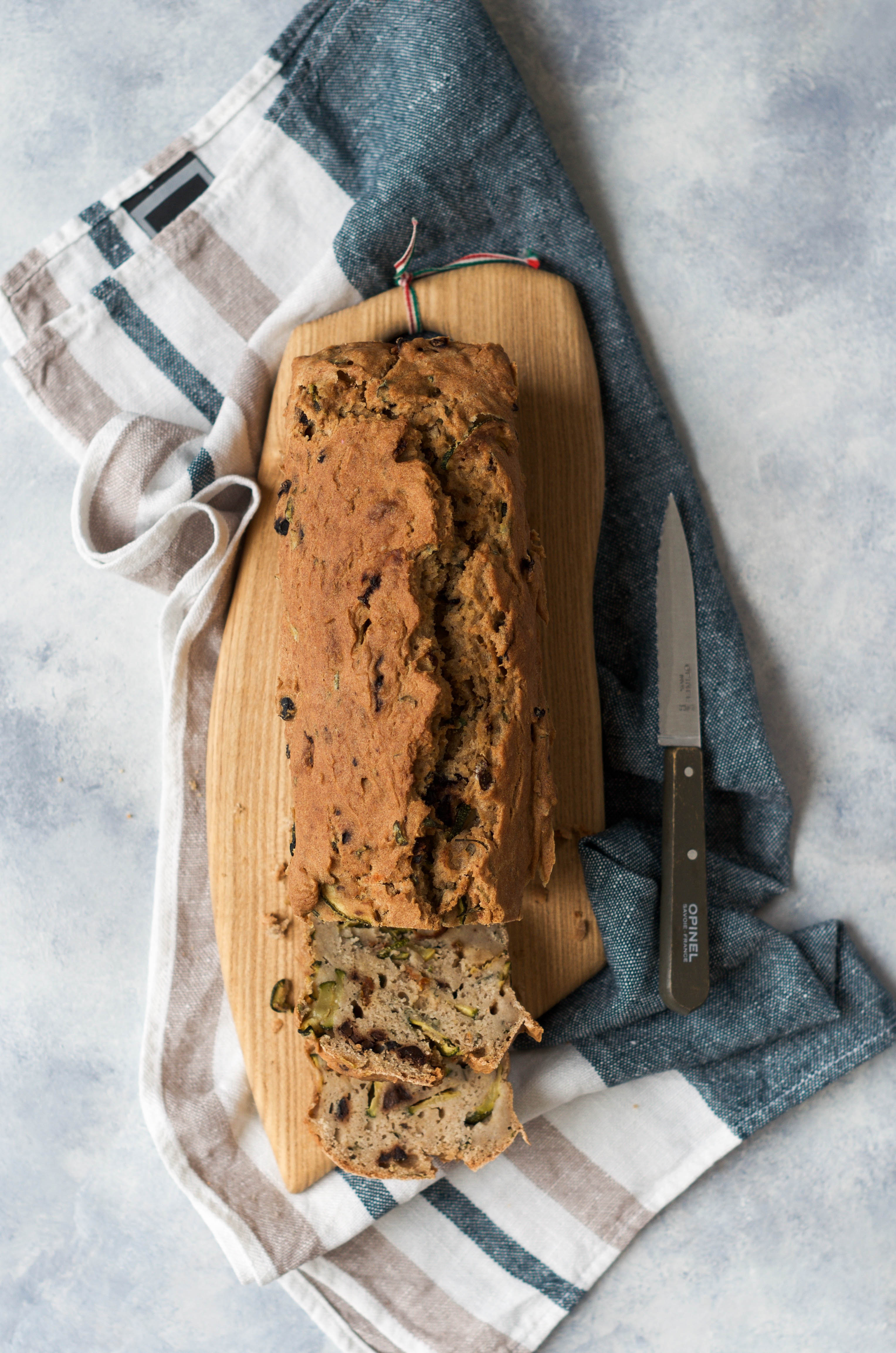 I love to serve this Zucchini, Olive and Sun-dried Tomato Bread at a picnic, along with a big salad. It's also great cut into little cubes for an appetizer.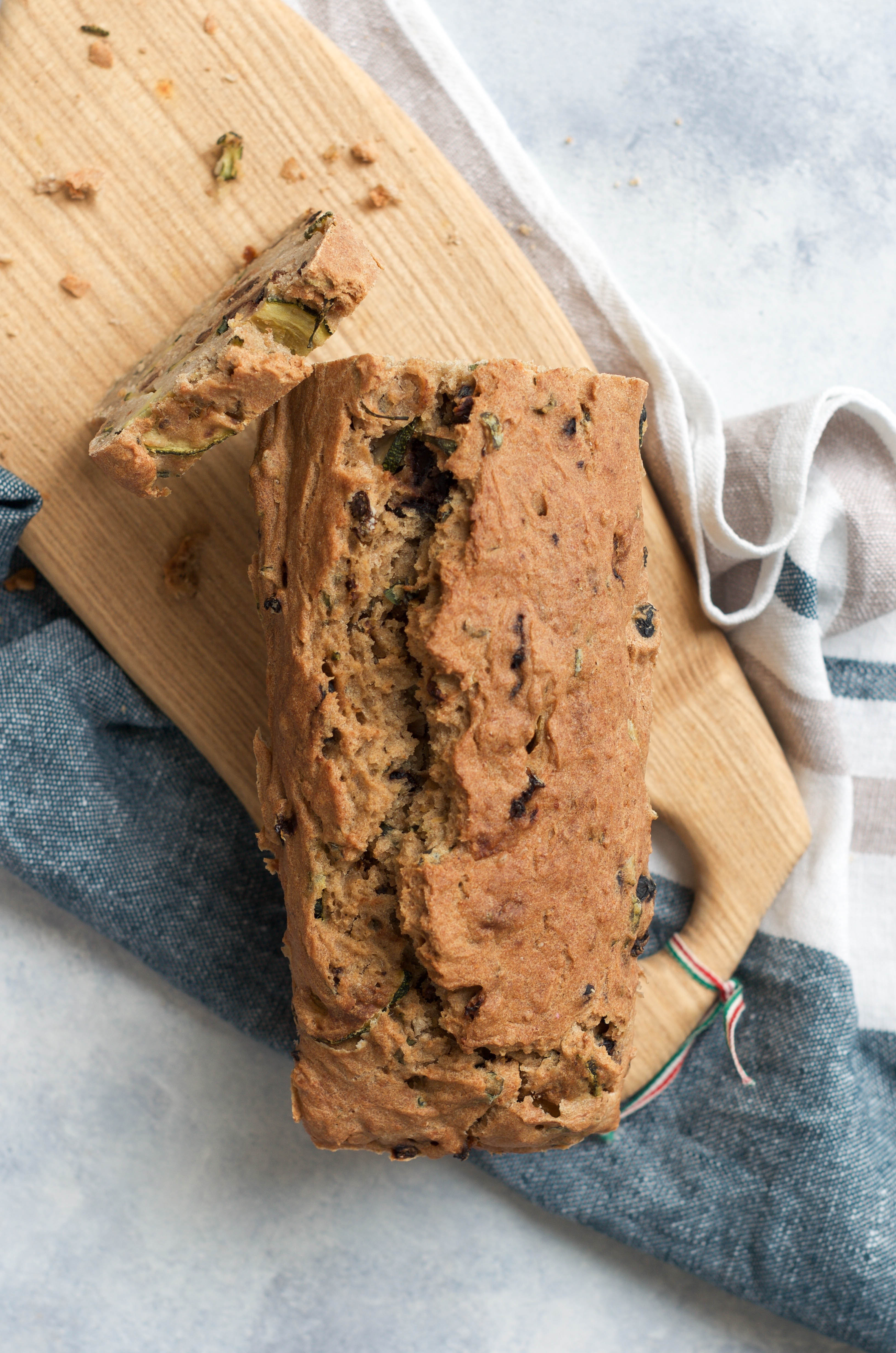 A few final notes:
Do not over-mix the batter, as this might cause the bread to turn gummy.
The baking time may vary a bit according to the type of pan you are using (silicon or not), and as usual, according to your oven.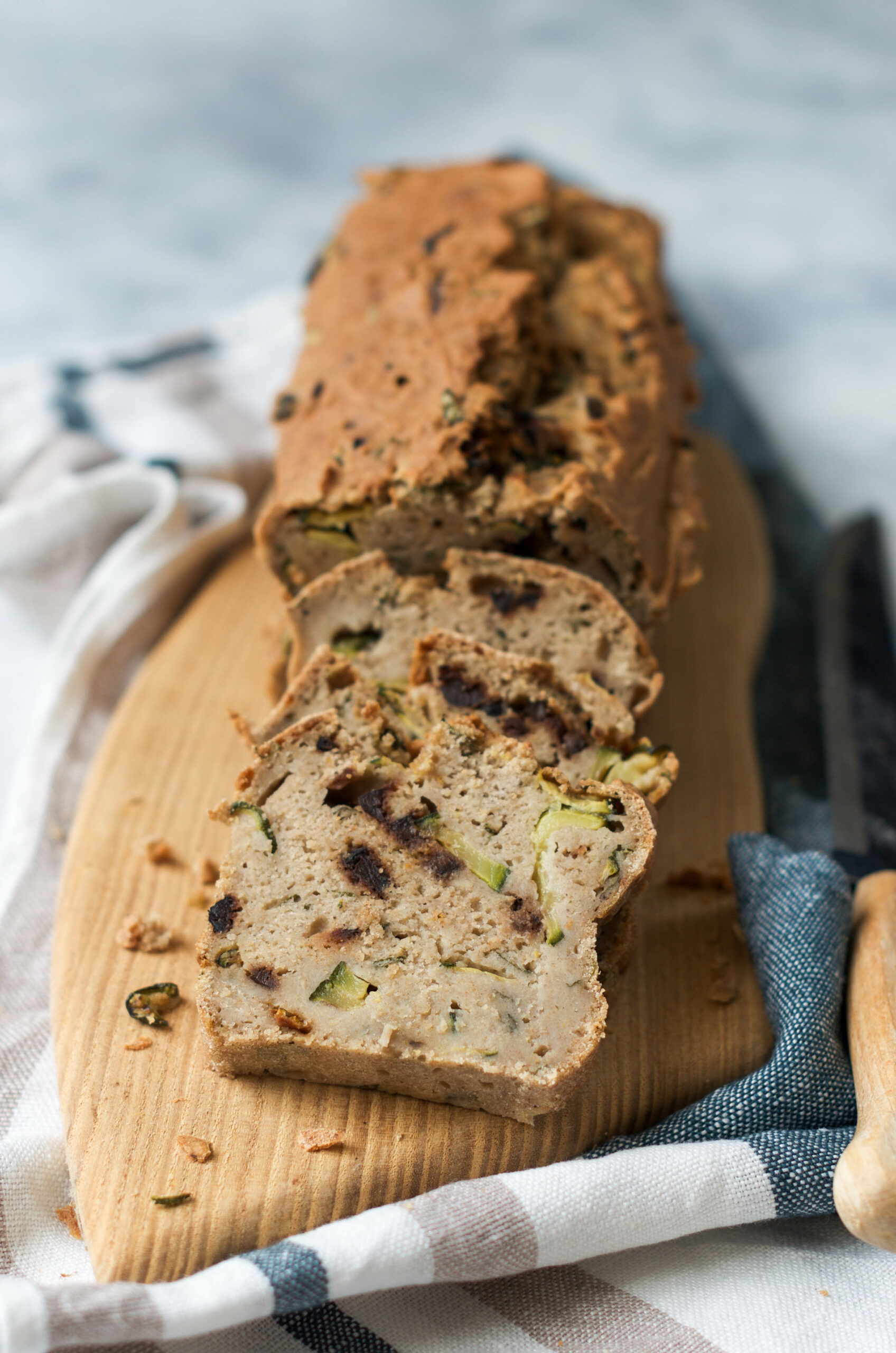 Print Recipe
Zucchini, Olive and Sun-dried Tomato Bread
Ingredients
1/4 cup of sun-dried tomatoes

2 cups of zucchini, thinly sliced

1/3 cup of fresh basil, chopped

1/3 cup of black olives, chopped

zest of 1/2 lemon*

2 + 1/2 cups of spelt flour

1/2 cup of buckwheat flour

1 tbsp of baking powder

Salt and pepper, to taste

400g of silken tofu (1 big package)

3 tbsp + 1 tsp of olive oil, divided

1 tbsp of apple cider vinegar

1 cup of almond milk
Instructions
1
Start by soaking the sun-dried tomatoes in hot water for 10 minutes, then drain and chop them.**
2
Slice the zucchinis into thin half moons. Sautée them in a saucepan 1 to 2 teaspoons of olive oil, for 10-12 minutes or until golden brown. Set aside.
3
Preheat your oven to 190°C (375F).
4
In a big bowl, combine the flour, baking powder, salt and pepper.
5
To the dry mix, add the silken tofu, 3 tablespoons of olive oil, apple cider vinegar and almond milk. Mix everything using a fork until the tofu is combined with the rest of the ingredients. Do not overmix, it's okay if there are still a few lumps.
6
Add the zucchini slices, chopped olives, basil, sun-dried tomatoes and lemon zest. Gently stir to combine.
7
Pour the mix into a lined loaf pan or silicon one. I use a 24 cm x 8,5 cm (9.5"x 3.3") silicon pan.
8
Bake for 50 minutes to 1 hour, until golden brown and a knife inserted in the middle comes out clean. Turn the oven off but leave the bread inside for 10 more minutes.
9
Take the bread out of the oven and let it cool 30 minutes before taking it out of the pan.
10
Let cool completely before slicing the bread. Enjoy with a salad or a side dish !
Notes
* Make sure the lemon is organic ** If you only have sun-dried tomatoes in oil, drain them and rinse them quickly to remove the excess oil. You don't need to soak them in hot water.
Looking for another appetizer to bring to a party or gathering ? You might like these Veggie Cakes with a Sweet Potato Dip !
Let me know what you think if you try this recipe 🙂 Don't forget to pin this recipe if you want to make it later ! And if you share it on Instagram, tag me @wandersandgreens and use the hashtag #wandersandgreens, it would make me so so happy to see your recreations !
Pin this recipe for later !